Why use an Industrial Hemp case in your marketing class?
5 reasons to use this case in your marketing class.
#1 Teaching note. Instructors get an extensive teaching note with a board plan, time hacks, and example powerpoint presentation.
#2 Today's headlines. A contemporary topic, Industrial Hemp is in the news and is relatable to current students.
#3 Classroom discussion. The Problem Formulation approach reinforces critical thinking and helps to structure the classroom discussion.
#4 Graduate students. Optional calculations can give graduate students a practical tool to reinforce marketing concepts and practice quantitative skills.
#5 Cost. It's affordable. Given the high cost of textbooks, this an affordable addition to your class.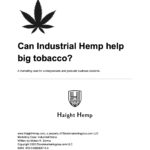 As a graduate school MBA teacher, I have used many Harvard Business Publishing traditional cases over the past 10+ years. Generally, their cases work very well, but sometimes they can take a long time to review in class. However, I have observed some problems over the years when teaching cases. Usually, I see issues such as the case time frame, calculation setup, understanding the strategic issue, and discussing alternatives. Usually, both undergraduate and graduate students forget the time bounds of the case and want to discuss modern social media applications in 10-year-old cases. Hopefully, this case is relevant and interesting for the students to discuss in class.

Graduate students
Marketing calculations are not designed to be like the problems in Finance, but to focus on the market opportunity, cost of customer acquisition, margin chain, or ROI on the advertising. This case has problems that help graduate students define the needed investment which can be scaled, calculating the US market opportunity, and product profitability analysis. The strategic issue facing our fictitious company, Mount Ida Tobacco Company, is significant. As tobacco use drops by consumers, the company must find alternative products to replace the declining tobacco revenues. Discussing alternative products that align with Mount Ida Tobacco Company's core competencies is important. This should foster an interesting discussion.
Buy our Industrial Hemp case now for your marketing class!